Similes
A
simile
compares one thing (the first thing) to a very different thing, by either:
saying that the first thing is

like

the different thing, or
saying that the first thing is

as

[adjective]

as

the different thing
Printable guide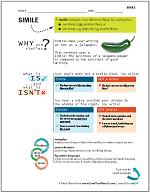 Click to download the printable guide
Video
Why use them?
Similes put clear pictures into people's minds, and they make your writing more interesting. Look at these pairs of sentences. Which sentence of each pair puts a clearer picture into your mind?
The man is strong.
The man is

as strong as a bull

.
(The simile in this sentence compares a man to a bull. You're not saying that the man weighs 1500 pounds (700 kilograms) and eats grass. You're saying that the man's strength is like the bull's strength.)
Examples: like similes
The night sky twinkled

like diamonds

on black velvet.
His hands were so cold, they were

like ice

.
The planes flew overhead

like a flock of birds

.
Examples: as similes
The ballet dancer moved

as gracefully as a swan

.
The frozen steak was

as hard as a rock

when we took it out of the freezer.
My son can be

as stubborn as a mule

sometimes.
Non-Examples
I'm as ready as I'll ever be.


(There's a few "as" words, but nothing is being compared, so there's no simile.)

My girlfriend looks just like her mother.


(There is the word "like", and you are making a comparison, but you're comparing a person with a person, which are two very similar things, so there's no simile. In order for there to be a simile, you have to compare two different things, like a person to a tree, or a happy face to bright sunshine, and so on.