Lists To Sentences
You can convert list items, words, and short phrases into sentences in a few short steps.
Printable guide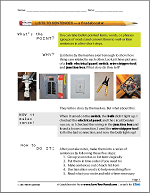 Click to download the printable guide
Video
Make sentences from lists in four steps
The above guide gives detailed instructions on the four-step process to take a bunch of random notes and convert them into logically related, well-flowing sentences. The four steps are:
Group your notes or list items logically
Put them in time order (if you need to)
Make sentences out of each list item
Use transition words to help everything flow
Read the document and do the assessment at the end. You can also watch the video for a different way to learn a good way to make sentences from notes.